Carol Sirrine, Secretary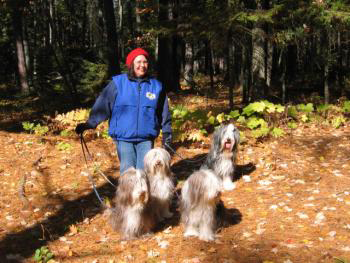 My husband, Brian Wistrom ,and I have been members of the BCCA since 1997, as well as of the Great Plains Bearded Collie Club. My first Beardie, Tuffy Burwell III, came into my life in 1980 after I adopted him from the Humane Society. He lived to be 15 years old. In 1996, as luck would have it, we found the Artisan Kennels of Springfield, Nebraska, and from that point on our lives revolved around our Beardies — Liam, Lauren, Lochie and Ashley. After Liam's untimely death from lepto, in 2009 we added Leo, Lochie's son to our family, who has become Brian's pride and joy as a herding companion. And, this spring little Linus came to us, a Liam grandson. Our family feels balanced again with 4 Beardies, all of whom we adore.
In 2003, I retired after a 36-year career in teaching and arts administration from the Hopkins Public Schools, Hopkins, Minnesota. My service to the BCCA began in earnest, even though my "new" job was as Executive Director of ArtStart, a 501(c)3 non-profit arts and environmental organization that I founded in 1988 and was a recipient of the 3-M Innovation Award. My initiation into service on behalf of the BCCA Inc. began as show chair of the 2005 National Specialty. After that service, the ball just kept rolling. I was awarded the 2006 BCCA Baxter Award for Creative Writing, "co-authoring" a story with my Beardie Lauren about our trip to the 2000 National Specialty. I joined the BCCA Board in 2006, serving as BCCA Corresponding Secretary (2006-2008) and as BCCA President (2008-2010). During my tenure in these roles, the Board approved a new membership and litter listing form; initiated an electronic version of the Bagpipes; institutionalized BCCA participation in the Eukanuba National Dog Show; hosted the 2009 National Specialty; and researched and established the BCCA Charitable Trust.
After completing my 4-year term on the BCCA Board, I was recently invited to become a Trustee of the BCCA Charitable Trust. Needless to say, I was thrilled to be asked to serve. I feel that the Trust, while still in its formative years, has a strong foundation on which to realize its full potential, thanks to the careful step-by-step work of its current Board. Because I have lived through the founding and growth of my own 501(c)3 non-profit, I understand firsthand about phases of growth of an organization from forming to storming to norming. It takes a strong commitment and belief in the mission of a new organization like the Trust to move through these phases. I believe those who are on the Board of the BCCA Charitable Trust have that commitment and have done, and will continue to do, the best possible for our breed, as they add value to the work of the BCCA Inc. I look forward to this new journey.
Carol Sirrine
5652 Clinton Ave., So
Minneapolis, MN 55419
cas4beardies@earthlink.net